About AIDM
IATA's Airline Industry Data Model (AIDM) is an infrastructure project that will see the upgrade of our messaging standards development capability.
It aims to become a single point of access to store structured information including:
Industry-agreed vocabulary
Data definitions and their relationships
Related business requirements
Each message development project can easily leverage existing models developed by other standards groups to generate interoperable messaging standards faster and with higher quality.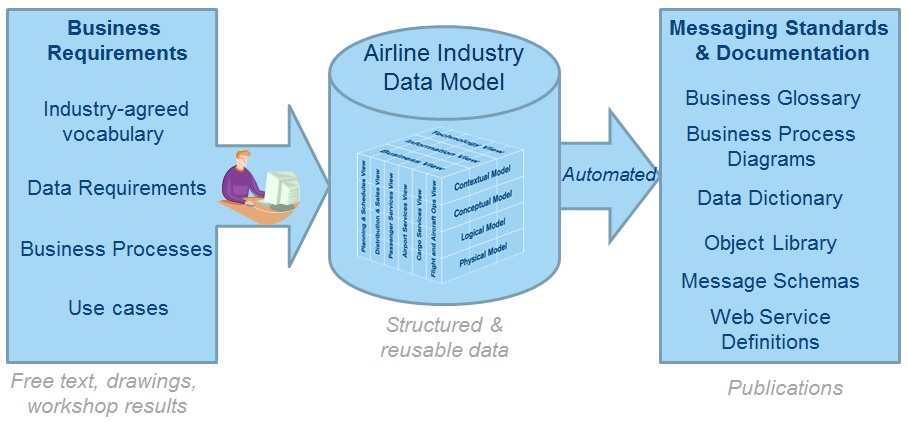 Access IATA Standards Deliverables here
Get Involved
Who uses the AIDM?
The AIDM and associated methodology is used by all standards groups under the governance of IATA Passenger Standards Conference (PSC) in their pursuit of modern data exchange standards.
Since its initial release in early 2016, a number of industry projects have used the AIDM to deliver new messaging standards or align existing standards to the common concepts stored in the integrated model.
What is in the AIDM?
Many IATA data exchange standards are produced from the AIDM, including those for Baggage, Offers and Orders, Aircraft Load Control as well as Settlement with Orders, with several more in the pipeline.
The AIDM's integrated logical data model (found in the "I3" partition of the model) includes an information model which covers several different domains including Flights, Parties, Shopping, Order Management, Payments, Aircraft Configuration, Baggage and more. The AIDM release is refreshed every 6 months in accordance with the Passenger Standards Conference standards release cycle.
Want to get involved?
We are keen to collect feedback about the industry methodology that is helping standards setting move into a modern age.
The AIDM and associate methodology is maintained by the Architecture and Technology Strategy Board (ATSB). If you are Data or Business Architect from IATA Member Airline or Strategic Partner and want to take part in integrating new models to the AIDM and evolving the modeling methodology, join your peers in ATSB groups on the IATA Standards Setting Workspace.
Alternatively, please contact the ATSB Secretary for more information.
View The Model
Business Pillar
Information Pillar
Technology Pillar
Contextual Layer

B1

Value Chain,
Business Objects,
Actor & Location & Organization Catalogs

I1

Information Domains,
Taxonomy of Terms,
Business Glossary
Conceptual Layer

B2

2nd level Business Process,
3rd + level Business Process,
Business Messages

I2

Conceptual Information Models

Logical Layer

B3

Use Cases,
Use Case Scenarios

I3

Logical Information Models
(Data Entities & all Attributes)

T3

Sequence Diagrams,
State Machine Diagrams,
Logical Message Models
Physical Layer

I4

XML Library Schema Model
(complex types)

T4

XML Message Schema Model,
WSDL diagrams
;